Quota Club recently partnered with Deaf & Hard of Hearing Services to sponsor a free night at the Grand Rapids Art Museum for children and their families! On January 11, 2023, children and their families explored the exhibition learning about Jim Henson, his beloved Sesame Street muppets, and the movies he helped create. Families also participated in an art workshop to create their own finger puppets! It was a blast! Thanks to D&HHS for helping us bring this special night to life!
Quota Club members welcomed children and families to a special night at the Grand Rapids Art Museum!  Families use materials supplied by the museum to make their own finger puppets to take home. The Jim Henson exhibition included interactive stations for children to create a muppet, then view it on a monitor as it would look on TV. Families explored the exhibit visiting their favorite muppets like Kermit the Frog!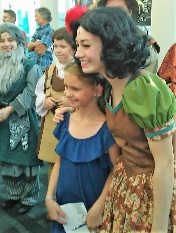 In June, 2018, Quota donated a hearing loop system to Spectrum Theatre at Grand Rapids Community College.  Thanks to the generosity of Lifetime Quotarian Eleanor Roberts, the system provides hearing assistance to hearing aid users attending live performances.
Snow White and company premiered the Loop with a performance of "Snow White, The Queen's Fair Daughter.  Our partners, GRCC and Circle Theatre, collaborated in presenting this magical evening for the community, especially our Deaf and hard of hearing friends.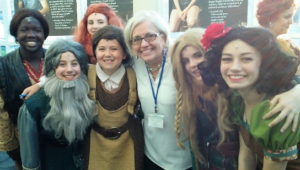 "Again, you have hit it out of the park!  From my heart, the agency and the Deaf and hard of hearing community please be secure in the fact you did indeed make a difference! This community who does not frequent events such as this because of many reasons was thoroughly elated that the actors/actresses actually came out to be with them!"  – Deb Atwood, D & HHS Executive Director